It has been SEVEN months since Philadelphia's non-essential businesses have been under stay at home orders due to the coronavirus pandemic. I truly never thought we would be out of the office for so long, hence why it has taken me so long to improve my work space. If you're like me and there is no foreseeable end to working from home, maybe its time to upgrade your home office space to fit your needs!
After tons of researching desks, I ended up deciding to build my own desk from IKEA materials. I wanted something with hidden storage, some open storage, and a large desk top surface. The open storage provides room for books, magazine file holders, and product samples to be easily seen and accessed. The drawers are better for smaller supplies and awkward things I don't need to use very often.
I love having a large countertop as well. When I'm not using the standing desk riser (get to that later) I have plenty of space to sprawl out over the entire desktop. This includes for sketching, jotting notes, laying out material samples, and reading drawing sheets.
Here are a few inspiration images I found;
Becki Owens wows again with this simple and beautiful office space design. I first looked at using kitchen cabinet bases for the storage on the side for a more affordable version of this, but ultimately it was too much customization for me. I did not want to have to paint especially for a rental home space. I love how much counterspace and legroom this design allows for.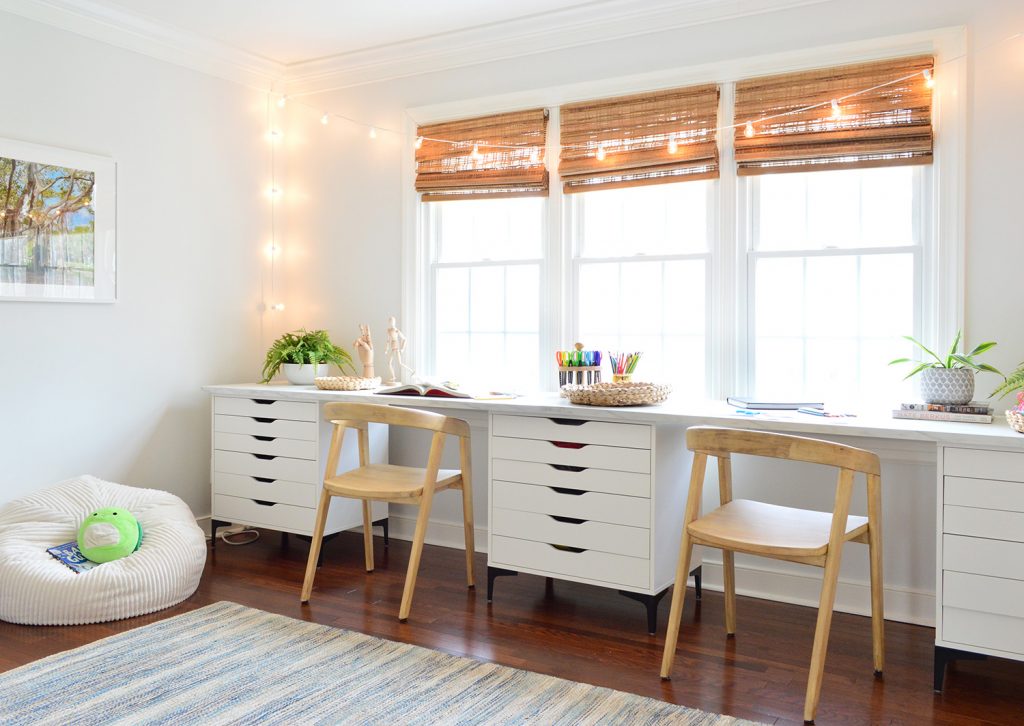 I love the simplicity of Sherri and John's work space. This particular set up wouldn't work for Michael and I since we need a little more space between us. We both are on conference calls during the day so we really needed two separate spaces. I LOVED their ingenuity with simply repurposing an off-the-shelf countertop for a desk top. They used the faux marble top here. IKEA has tons of options for finishes, so feel free to get creative and use whatever fits your vibe.
The last inspiration was from Lauren and Kyle who used a piece of plywood to span across their IKEA units. They custom built bookshelf units for along the side wall of the desk. I love how the desk top seamlessly transitions into functional storage space.
When sizing a desk, it's important to keep in mind the ergonomics of the desk. A good rule of thumb is that all of your body parts should be at 90 degree angles to one another. Your feet should be comfortably at 90 degrees to the ground, your knees at 90 degrees, your hips at 90 degrees, your elbows at 90 degrees.
Desk heights can range from 25″ to 30″ in height, so use these dimensions as a baseline. If you area shorter, you may want to consider 25-26″ desk height and alternatively if you're taller look for something 28″-30″ in height. I found that placing an IKEA countertop on top of the IKEA Alex drawer unit put my desk at 28-3/4″. This is a little tall for me, but it allows me to cross my legs under the desk if I keep my chair lower and also allows me to use my ergonomic foot rest.
Here at the pieces you need to build the desk portion:
IKEA Alex Drawer Unit
IKEA Flysta Shelf Unit (on its long edge)
IKEA Saljan Countertop
4. Flexispot Standing Desk Converter
Assembly is easy! Use the IKEA instructions to assemble each unit (Okay, maybe this part isn't as easy for some). The Flysta and the Alex are the same exact height. Do not put the little black feet on the Alex or else it will be slightly taller than the Flysta. The Alex unit come with round rubber spacers. These were critical in getting the countertop to sit stable and level. First place your countertop across the top to bridge over the Alex and Flysta unit. If your floor is not perfectly level like mine was, I used two on each end to make the countertop really sturdy.
That's it for the desk part! In the future I'm going to add another Flysta unit to provide even more storage space and create a nice short little wall of shelving.
I've also been using a standing desk convertor when I don't feel like sitting for extended periods of time. It gives me an opportunity to stretch my legs out, move around a bit and just break the day up.
I was gifted this standing desk converter that easily transitions your conventional desk into a standing desk. It easily lifts with very little effort so it's pretty easy to move from standing to sitting and vice versa. I used one at my office space before the shut down, and I completely forgot how nice it was to stand and work!
Here's a little gif I made showing the functionality of the desk itself! I love it.
Has your work been allowing people back into the office or are you also working from home? Let me know in the comments!